by Sarah S. Montgomery, LCSW-C and Susan M. Coale, LCSW-C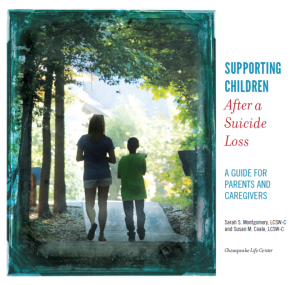 "There are universal themes common to all types of grief, such as sadness,
anxiety, anger or confusion. Given the generally sudden and unexpected nature of suicide, children's emotions may be more intense, and questions particular to suicide will likely arise. There is the shock and trauma of hearing about a sudden death and the grief that ensues, and there is also the question of "why?" "Why" comes to the forefront almost immediately and tends to remain predominant longer than in other kinds of grief. The "whys" are difficult for adults to understand and even more elusive for children. Therefore, it is important to be concrete in language and to let children ask questions about their concerns. The conversation should balance honest sharing and restraint.
Talking with children about death is never easy. Talking with
children about a suicide death is even more difficult. Our instinct
is to shield children from painful events, to protect their innocence
and fill their lives with love and security. By addressing these
painful topics together with our children we foster love, security
and reassurance. If you are talking with a group of children who vary in age, begin with language appropriate to the youngest in the group. Answers need to be shaped by the particular circumstances of death (for instance, if the deceased struggled for a long time with depression), the relationship with the loved one (was it someone closely involved with the child on a daily basis or someone they saw only periodically), and the particular emotional makeup of the youngster. Children need to know that nothing that they did, said, or thought caused the suicide. Most importantly, children need to understand that their feelings are acceptable, that they are safe and loved, and that they are normal.
PREPARING FOR THE CONVERSATION
Some children will not have yet heard the term "suicide." Some may
show little curiosity and let the topic slide. For others, the term may
raise anxiety about death. Avoiding difficult topics such as a loved
one's suicide can convey that the topic is taboo and may serve to
increase children's worry. Opening the door to conversation about
suicide loss lets children know that it is okay to talk about their concerns,
and adults are able to support them. To the extent that a child wants
to discuss what has happened, engage in open conversation; try
to match the pace of the conversation with the child's pace.
Parents are sometimes tempted to avoid the truth and make up another
cause of death when telling the child. Children inevitably discover the
truth, so although well-meaning, creating a non-true story is not helpful.
It may cause them to feel lied to by adults, losing trust in those who
desire to protect them. If you have already told a child that their friend
or relative died in another manner (accident, cancer, etc.), explain
to the child that you thought that this was protecting them at first, but
now you realize that you need to tell them what actually happened. For
example, "I know I said before that Steve had cancer. This is not true.
I thought I was protecting you by saying that, but now I know it is better
to be straightforward. He died by suicide. His brain was not working
properly, and he was not thinking clearly at the time of his death. He
had a type of brain attack, and he ended his own life."
Telling the truth does not mean sharing all the details at once.
Whatever information is shared should be factual, but does not need
to be all of the information available. This foundation of truth can
be added to or expanded upon in future conversations. If you are
unsure about how to answer a particular question, it is often wise
to say, "Good question. I don't know how to answer that right now,
but I will get back to you soon with my thoughts." It is good modeling
to take breaks to gather your thoughts.
In their desire to understand suicide, some people blame a particular
person or circumstance. Always remind the child that death by suicide
is no one else's fault, and that they are not to blame themselves or
anybody else."
____________________________________
http://www.chesapeakelifecenter.org/
Sarah Montgomery, LCSW-C is the Coordinator of Children and Family Programs at Chesapeake Life Center, a program service of the Hospice of the Chesapeake. She has over 20 years clinical experience providing individual, family, and group counseling in a variety of settings. She has presented at numerous venues on topics including teenage depression, helping children and families grieve, using art in therapy and supporting children and families after suicide loss.

Susan Coale, LCSW-C is the Clinical Specialist in Bereavement for Chesapeake Life Center at Hospice of the Chesapeake. She provides individual and group counseling for grieving adults, children and families. Susan develops and delivers training for professionals and supervises graduate students in the area of grief and traumatic loss and was on the team that developed Camp Nabi for grieving children and Phoenix Rising for grieving teens.