Show Posts
This section allows you to view all posts made by this member. Note that you can only see posts made in areas you currently have access to.
Messages - Lady Tea
Pages: [1]
1
« on: April 24, 2009, 12:55:10 PM »
Loss
By Theresa Bennett-Ruggles
I still feel your last hug
our last "I love you" said.
Folded clothes are put away
in a box beneath my bed.
I cannot bear to erase
your number from my cell
Memorized your laugh
replaying your last email.
I don't want the photos to fade
nor tear
I want to run my hands
in your beard and hair
To say Goodbye
everyday till we meet again
feels so lonely
like you've died again.
It's by Grace
His Peace that holds me near
There is a lake
made from my every tear.
So much I want to say
show you how much I care
But I rock alone
alone in my rocking chair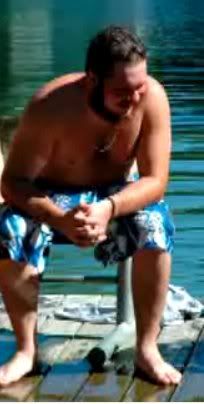 2
« on: April 24, 2009, 12:28:28 PM »
Aww John...we know you miss her. Prayers and comfort for you.

sincerely,
David's mom
3
« on: April 24, 2009, 12:26:00 PM »
Happy Day of your Birth and Celebration of your life sweet Angel Taylor. We'll hold your mommy close in our thoughts and prayers today. Give her a rainbow.

Love
David's mom
4
« on: April 24, 2009, 12:21:10 PM »
When David died my best friend Ray came to the house. He didn't come to talk ...he came and washed dishes. He encouraged me to take a shower. He brushed my hair.
Kat you are doing so much for your daughter...she sees this. When my sister died ...our neighbor came over to our house and she shined the families shoes to wear to the funeral. It was just a small act but it was much like Mary washing Christ's feet. Just keep doing what you are doing.
5
« on: April 24, 2009, 08:04:00 AM »
Yes I set up the David Cecil Ruggles Memorial Scholarship. I went through my church. Our financial officer made a separate account. Our Scholarship sends kids to summer camp. My son loved going to our denomination's camp. So many people admired him. We had a Celebration Ceremony ...that had all of his family and friends come together. At this celebration people stood up and told stories about him and his life. We set up a basket in the entry so people could donate. We've sent 2 kids to a retreat and are set to send more this summer.
You can speak with an Attorney if you don't go through the Church. I wanted ours to be legal and difficult for fraud.
It is a way to feel better about his passing.
6
« on: April 24, 2009, 04:58:17 AM »
Rita,
Yesterday was a difficult day. David has been gone now since Dec. 29, 2009. I was having a nice day. Buying herbs and tomatoes for the garden, and I looked up and saw a young man with his hat on backwards. I broke down and bawled. When I was pregnant with him I had to live in the hospital for almost 2 months to keep from having him too early. I would hold my breath everytime they checked for his heartbeat and not relax till I heard. To think he died on a lonely road in the early morning on Natchez trace ...a Park Ranger felt those last beats of the same heart. A stranger was there not his mommy to feel that sweet heart say goodbye ...tears me in two. I don't have any words for you Rita...only that you are not alone on this journey. My sympathy reaches out to you. I have made myself available to other boys who either don't have a mom or their mother's have "checked out" emotionally for what ever reasons. I have 2 other sons who need my ears and love. I don't think we'll ever get over this. God Bless you Rita.
7
« on: April 21, 2009, 01:36:15 PM »
Barbara,
Thank you for posting. I smile a little with the simularities. David wore his hat backwards sometimes. He had grown a full beard before his death. He laughed because it was red from our irish ancestors.
You said you'd been grieving for over 9 months...is it any easier? On days like today, I give into the pain...but I have to be strong for the other 2 boys. Do you feel like you have no right to grieve? Do you feel like if you take some time off to not do anything just for a bit ...that would be wrong?
I'd like to post pictures but apparently I am not very computer literate.

Lady Tea.
8
« on: April 21, 2009, 08:23:47 AM »
I buried my oldest son David the first week of January. He died December 29, 2008. My brother and his wife came to Nashville for the funeral. My sister-in-law fell the day of the funeral ...she broke her hip. They both stayed with me as she healed ...that took till April 4th. 2 weeks after my son's burial, a police officer came to the house with papers. My ex husband (who was being sued by the state for back child support)decided to sue me. I had to have a biopsy of my cervix and uterus...then wait for the results. My youngest son started smoking (I don't smoke). My second son revealed that he not only had a girlfriend but they were living together.

I have a sense of humor...I am waiting for the Locust.

I keep a card with David's voice from last Mother's Day "Love you Mother". I play it over and over. I have all of his last text messages saved in my phone. I wanted to do more. Remember him ...So with help we set up a Scholarship in his name. This Scholarship will send kids from poorer families to summer camp. I've involved myself with other boys who need "mothering". I have family time with my other 2 sons. I have Ben my 16 year old in therapy ...and we're dealing with the ciggerette issue. I love my middle son Jonathan's girlfriend. They are being responsible so I'm trying not to be so old-fashioned.

David had just turned 20. He had graduated from Wyotech in Laramie, Wyoming. He was on his way to his new job in Jackson, MS. He didn't stop to rest after being awake for almost 3 days. He fell asleep at the wheel and hit a tree. There were no skid marks, he died instantly. We had spoken on the phone the day before ...all our "I love yous" were said. He was a Christian and served God.

Life goes on here...and there is Joy in the knowledge that he will be with me in eternity. But when all is quiet and I am alone I rock ...I cry and I yearn.
Pages: [1]