Show Posts
This section allows you to view all posts made by this member. Note that you can only see posts made in areas you currently have access to.
Messages - Hallowt
Pages: [1]
1
« on: October 09, 2009, 08:04:52 PM »
Thank everyone.

Things are much better this way.

I was in the hospital for a short stay.

My wife is on medicine, but she just doesn't seem to be getting better.

I just wish I could find a way back to some sort of real life.
2
« on: September 22, 2009, 09:27:33 AM »
Well my mother passed away in July of 2004, my father in March of 2007 and my brother in October of 2008.
I am the last of my family!
My brother had two daughters, and I know they love me.....but they have their own lives to lead.
My wife of 23 years has fallen into a deep depression and I can't get her to snap out of it.
I have so many awesome friends, ones who would give me the shirt off their back, but I still feel so alone.
I have two beautiful dogs, and a a nice place to live.....it just seems empty though.
3
« on: August 22, 2009, 10:39:32 AM »
Thank you......
My prayers are with each of you.
I will always hold the memories of my brother in my heart.
He use to do the Santa thing each Christmas. He carried on a tradition that my father use to do.
I miss my family.
I try to play the 'strong' one, but I feel like sometimes my life isn't what it should have been, or could be...
4
« on: August 22, 2009, 10:33:29 AM »
Thank you everyone......

I can never express my thanks to you all for your kind words and support.

Words can never express my thanks.
5
« on: July 02, 2009, 10:20:24 PM »
Thank you.......

Yes my brother Eddie decided he couldn't cope anymore and he left us.

I can't shake it. I have tried everything, discussing it with others........talking it over with the professionals, putting my thoughts into poems. I just can't shake it.

I keep seeing him there that day. Seeing his teenage daughters crying there eyes out.

I remember his x-wife asking me who owned what cars and trucks, and stuff.

My thoughts that day, as I looked at my brother was not of me, but that he wouldn't be there to see his daughters graduate from college. He wouldn't be there to walk them down the aisle for their weddings. To hold is grandchildren, and be Santa Claus for his grandchildren. Then as I looked at him, all my sorrow and hurt......turned to anger. I wanted so bad to just go over there and start beating the heck out of. I know it sounds horrible, but I got so angry at him. Knowing he did this.

There isn't a day that doesn't go by, that I know.....yes know......I am not to blame, but I always have it in the back of my mind.....there had to be something I could of changed, said.....something. I will forever carry that burden.
6
« on: July 02, 2009, 07:16:44 PM »
My mother and father had purchased and RV to travel and see the world in 2003. The did make it to some places, but my mother diagnosed with stage 4 liver and lung cancer in April of 2004. She passed away in July of 2004.
In August of 2004, we moved in with my father. Our house was damaged due to shady contractor. We stayed with my dad and looked after him. He continued to travel sometimes in the RV. He took my nieces to Graceland. He took some family to Colorado, and friends here and there. He would also take us Halloween Decoration sight seeing near Halloween.
He became ill in late 2006, and was diagnosed with colon cancer right after the holidays. He had the colon surgery, but the stitches let go, and he did from becoming septic in March of 2007.
He left quite a burden on us, as they still owed a great deal on the RV and house. Well my brother never could come to terms with my father's death. I took a great deal of the estate on my shoulders, and tried to sell, give stuff to proper folks, so forth. The RV was hurting us financial, but we still tried to take the family out every Halloween, and use it so it didn't just rust away. Well in late September of 2008, we had an offer to buy the RV, for a lot less than what we owed, but the RV was appraised less than what was owed.. Between my brother and I, if we split the burden, we could of been ok. We had things set to go, and evening my brother committed suicide. He left notes saying he couldn't cope with my father's death, and the fact that he had just been through a divorce.
I felt lost, my whole family was gone. I had the burden of the whole estate on my shoulders. My Uncle, Aunt and wife were here to help..........but believe me it is a huge amount of stress.
Well I am happy to say, that we sold the RV today. To a very lovely couple from Canada. They are going to be able to make new memories in the RV. We worked it with the bank were the burden was very easy on my to cover what was still needed, plus what they were paying.
When they drove off in the RV, I asked them to please take a picture of my mom and dad on the day they bought the RV. If they could please put it somewhere in the RV, and that way.....when they travellled, it was like my mom and dad were getting to go to all the places they had wanted to also..
The gladly agreed. So the RV left today, with a new family, old memories.....and new ones to be made.
It was one of the hardest days of my life.....as I saw it drive off one last time....
A huge chapter in my life is over.......
8
« on: April 16, 2009, 08:56:53 AM »
Huge thanks for all the kind words and support....
I miss him so much.
My passed away in 2004, dad in 2007......and Eddie in 2008.
I am the last of my original family line....
It can get so lonely sometimes....
9
« on: March 26, 2009, 07:17:42 AM »
Hi everyone, just stopping by to say hi. I am really down today.
I miss my brother so much. I was thinking about how we use to go out for breakfast, when we use to work together.
I miss him emailing me, and I miss seeing him race.
10
« on: March 15, 2009, 04:15:31 PM »
Nope, racing cars was my brother's thing.....

I am more of a computer geek.....

I sell on eBay and bonanzle........

I also work at a University and I am in charge of the data entry. I aslo assist the business solution center in helping parents who are divorcing schedule their parenting class.

For our racing team, I was the 'numbers' guy. I use to keep track of all my brother's numbers...........and stats.
11
« on: March 05, 2009, 03:33:02 PM »
I too keep asking myself why? I keep asking, what could I have done different? I keep blaming myself.....you know, the 'what if I would have done this, or that'....
Another thing that troubles me is, he cheated death so many time!!
When he was younger, he was an auto accident, and was dead for two minutes. The paramedic brought him back to life. Another tip he flipped the car while racing at Grundy County.
The most breath taking was when the throttle got stuck in the car, and he climbed the wall, rode on the wall, hit the score board and went over the wall.
He was protected and given so many chances by the 'powers above'. I don't want to push my beliefs on anyone, so that is why I say powers above. Hopefully I don't offend anyone by speaking in general terms. Sorry if I did...
Here is him going over the wall that day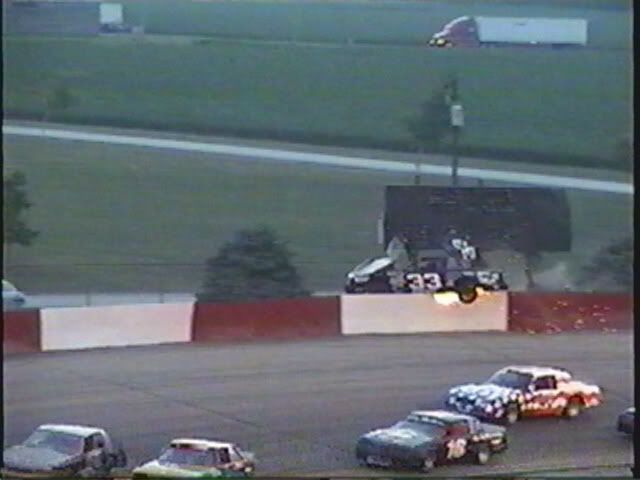 12
« on: February 28, 2009, 08:53:06 AM »
This is my brother in 2003.......some very happy memories....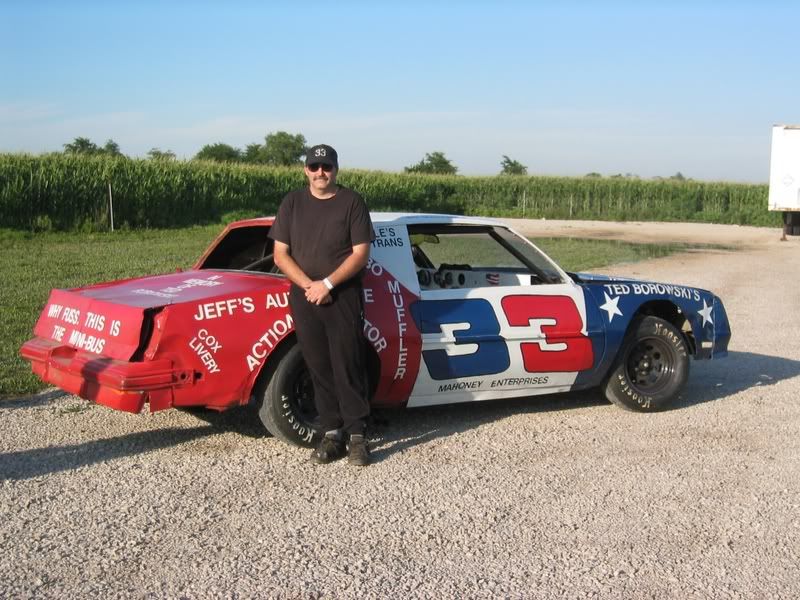 13
« on: February 28, 2009, 08:49:19 AM »
I will post some pictures of my brother....
Thanks to everyone for your support....
14
« on: January 30, 2009, 07:05:01 PM »
My brother passed away on October 17, 2008. He was only 44 years old! He has two beautiful daughters, who he was suppose to walk down the aisle.
He also had played Santa for many, many years! He was suppose to be there to play Santa, when his daughters have kids.
There was a lot of unsaid, and undone things between us. Our father had passed away in March of 2007, and my brother never got over it. He never got involved in the estate, and my Uncle and I had been handling most of it.
I keep think there is something, I could have said, or even done......to prevent this tragedy.
Pages: [1]