Show Posts
This section allows you to view all posts made by this member. Note that you can only see posts made in areas you currently have access to.
Topics - Kim- Matthew's Mom
Pages: [1]
1
« on: January 28, 2009, 10:06:13 AM »
I have not posted in such a long time and I am glad to see everyone is still here....It so nice to be able to come to this site and see the familiar and catch up on what is going on with everyone.

I am saddend by the new faces....That means so many more children are lost to us...My prayers go out to each of you.

I have been very busy with my new grandbaby and she has helped fill some of the emptiness in my life since the death of Matt... I have found new reasons to laugh again....

I wish everyone well and again it is so good to touch base and feel safe and warm and that is what each of you do for me.....Thanks for that.....
2
« on: March 18, 2008, 08:56:49 AM »
I know I have been gone for a while. My daughter had her baby on December 27th and boy have we been busy..... I sure hope evey one has been well and I hope the holidays were kind to you.
I miss coming to the board as often as I used to. I just stay so busy now. We are coming up on Matt's 4th anniversay of his death....It just does not seem possible. I still think about him many times every day. I was so afraid that with time I would forget things however I think my determination not to forget has made his memory so much stronger.
I want to share a picture of my new grandbaby with each of you and I hope each of you find a blessing in each day.
Kim
3
« on: December 07, 2007, 01:36:37 PM »
Hello-

I just wanted to drop in and say hello to everyone. I know I have not posted in a while however I have stopped in and read the posts. It is sad to see the new names. So much pain in the posts I am glad you have found this place there are people here that can offer you a shoulder and an ear to help you through. This site has been a life line for me since Matt's death.

I am going to be a grandmother soon, my daughter is due Jan. 1, 2008 so we are excited about the new life that is coming into our family. I think for the first time since Matt's death I can truly say I am looking forward to something.

I want to wish everyone a Happy Holiday season and my each of you find some peace during this time. Please know that I think of and pray for you often.

Kim
Matt's mom forerver......
4
« on: April 19, 2007, 05:50:41 AM »
It has been 3 years today since you left your earthly home and it still seems as thogh it were yesterday. The pain has softend some but still ever so deep and intense when I stop and and remember this awful day in 2004.

Matthew please know that you are loved and missed by all and we are looking forward to the day when we are all together again. Please keep watch over us and let us know from time to time that you are there.

Love Mom.

5
« on: March 05, 2007, 09:27:19 AM »
Do you ever have a time when you are just sitting there and all of a sudden you are transported back in time to that moment when you were in that room or place where you last saw your child. Lately I have had those moments so often. I can be doing fine or so I think and all of a sudden I am back in that hoppital room with Matt just lying there. I seem to remeber every detail, every horrible but beautiful detail. Those were some of the last moments I saw him on this earth. They seem to bring so much pain but somehow I can't seem to get past thme.

I just seem to be struggling so much more these days. I do not know if it is because we are approaching the 3 year mark and all the shock is gone and the full reality has hit. It has been 3 years since I heard his voice or seen him smile. I know that so many of you know exactaly what I feel.

Family and friends seem to go weary of the story and I try to hide my pain and it seems to help them cope. It does not ease my pain but I just do not know of any other way to deal with others than to wear a mask during the day and cry in the shower and in the dark of night.

Thanks for listening you guys have been such a rock for me over the past three years and I appreciate you all dearly. I think of you and your children daily and I remember each of you in my prayers.

My God bless and keep you all of your days and may you find peace.
6
« on: March 02, 2007, 12:35:45 PM »
Aril 19 , 2004 Matthew Sapp 3 Years- I can not beleive it has been three years. I miss you so much.
7
« on: February 26, 2007, 07:34:15 AM »
John I just wanted to say thank you for lighting a candle on Matthew's Memorial page. You have no idea how perfect your timing was. My birthday was Thursday Feb. 22 and I was already in that place missing my son and that meant so much to me that you would visit him and light a candle during that time and not even know how much of a blessing you were. Just to know that someone one else was thinking about him then also just means so much to me. Thank you so much from the bottom of my heart and God bless.
8
« on: December 21, 2006, 12:13:49 PM »
I am finally figuring out some of this picture thing. I thought I would share a picture of my family. This is My husband and my daughter and son and of course I am the one trying to hide in the back.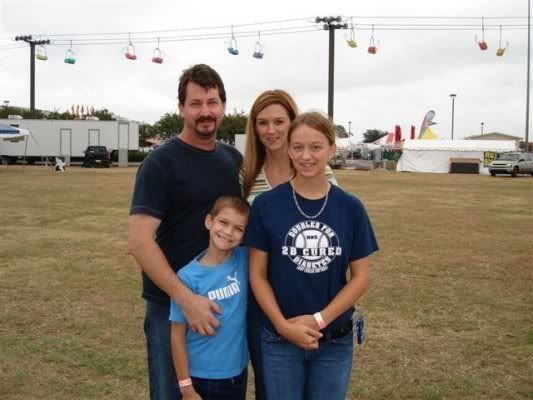 9
« on: December 05, 2006, 09:11:34 AM »
I am so glad I have finally found you guys.  I am just amazed at how dependent I have become over the past 2 1/2 years on coming to this site and feeling this connection.  I know I do not always share but I always receive a great comfort from you and I do share when I feel the need or when I feel I can add some comfort.

I do want to share something with all of you.  I do not know if you remember or not but a few weeks ago I shared about a nightmare I had about my husband and how I was so afraid.  Well I was concentrating so hard on Matt that I guess I just got things so mixed up.  I have tried to calm myself and just relax.  Well it paid off.  Saturday night Matt came to me in a dream.  In my dream I was asleep in my bed in my room and I heard this voice,  Hey mom...I opened my eyes and there he stood,  I looked at him for a second or two then jumped up and hugged him.  He said I love you.  I in turn responded I love you too.  I do not know why but I asked him  do you like it where you are?  He responded with Oh Yea...( in that kind of voice like it is the greatest place mom you need to see it)  Then I woke up.  I was so out of breath when I woke up.  It was like I was holding my breath the entire time he was in my dream.  The image of him I saw had changed a bit.  He looked a little older ( which makes since he would be 20 now)  he had also grown a gote'.  He so desperately wanted to grow facial hair and it just did not happen for him he had such baby skin.  I tell you I am still on cloud nine.  I just wish I could see him again. I guess that is the problem with dreaming is you never want to wake up.

Thanks for letting me share. 

I also have some bad news to share .  The family I had asked that you pray for .  The firefighter who was hurt.  He passed away last Wednesday and they had his funeral yesterday.  It was a beautiful ceremony.  Please continue to remember the Wife and the 4 children who begin this journey without a husband and a father.

God bless you all and I am so glad to be able to communicate with all of you again.

Kim
Pages: [1]